Boat Launch Permits
Boat Launch permits assist in operating and maintaining the boat launch.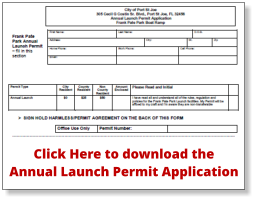 Daily Passes:
City and County Residents Daily Pass: No charge with annual pass displayed
Out of County Daily Pass: $20.00 ($18.60 Fee + $1.40 (7% State Sales Tax)
The daily passes must be purchased at the pay station with Credit or Debit card ONLY.
Permits must be displayed properly.
Annual Passes:
City & County Residents Annual Pass: No Charge, must provide a photocopy of your valid Florida Driver's License showing a Gulf County address.
Out of County Residents Annual Pass: $100.00 ($93.00 Fee + $7.00 (7% State Sales Tax)
Annual Passes need to be purchased at City Hall, Monday - Friday between 8:00 AM - 5:00 PM. You may also submit your application online to: vkennington@psj.fl.gov, criley@psj.fl.gov, ebarfield@psj.fl.gov, hbailey@psj.fl.gov or vkennington@psj.fl.gov. We accept Visa, Mastercard, Discover, Cash or Check payments at City Hall.
Permits must be displayed properly
Problems with the pay station? Call City of Port St Joe 850-229-8261, select option 1, during business hours, Monday-Friday, 8 a.m. to 5 p.m., after hours call 850-227-8152.
Follow the links below for photos of each park and trail in the system.
Frank Pate, Jr.
was born in Paul, (Conecuh County) Alabama. As a young man, he moved to Panama City on Labor Day weekend, 1945 and went to work for R. R. Whittington who owned the Shell Oil distributorship in Panama City. While living in Panama City he met and later married Evelyn Griner. Mr. Pate delivered kerosene and gas by truck for Mr. Whittington and worked in the service station in the summer. In the spring of 1948 he purchased Carter's Station and ran it until his lease expired. On May 15, 1950 he opened his Port St. Joe business.
Elected as Mayor on September 13, 1966, he began his first term on October 1, 1966 and served through June 3, 1997. On May 11, 1999 he was re-elected and began serving his second tenure on June 1, 1999 and served until June 19, 2007.
Accomplishments of Mr. Pate while serving as mayor:
Political platform when first ran for mayor, all of which have been fulfilled:
To create a retirement program for all city employees
Better pay - top pay was $1.55 per hour
Provide health insurance
Offer more benefits to employees
Establish a recreation program
Hire minority policemen
Open Avenue A to Highway 71
Acquisition of Land:
Development of City baseball and softball fields on 10th Street
Construction of police and fire stations
Exchanging baseball field property owned by the City for the Washington School Site owned by the Gulf County School Board.
200 acres for wastewater spray fields
Hess Oil property for marina site
Parks created - Frank Pate Park, Maddox Park, Lamar Faison Park
Creation of Buck Griffin Lake
Purchase of freshwater canal
Area between Capt. Fred's Place and 5th Street from Baltzell Avenue to the bay
Open area between Maddox Park and First Baptist Church property
Waterfront property between 2nd and 3rd Streets
Additional acreage for Holly Hill Cemetery
75 acres for recreational complex
Taxes: When elected, the millage was over 15%. With the exception of two years the millage was either cut or remained the same. The two years of increases were held to a quarter and one-half mill, the larger caused by the closing of the paper mill.
Frank Pate was a long-time member of First Baptist Church and the Rotary Club.